MIAMI POLICE DEPARTMENT

STARTING OUT
I graduated from Barberton High School, Ohio in 1967. In my three years of high school I was the "Marching Magics" All Brass Band Drum Major (except it changed from all brass to a regular band in my senior year). I received a scholarship to attend the University of Cincinnati and to perform with their band. After a year of trudging through the snow from my dormitory to classes, I found out I had a Aunt in Hollywood, Florida and asked if I could stay with her and attend my second year at Miami Dade Junior College, once again majoring in Police Science and she said yes.
Occasionally I went surfing with a college buddy on Ft. Lauderdale Beach.

While attending school I found out the Miami Police Department had a Cadet Program. As Cadets we worked in the office. I can't remember at this time if we were paid, but I don't think so (someone will help me on this one). We would work in various office assignments at the Miami Police Department doing mostly paperwork. Occasionally we were also allowed to ride as observers in patrol vehicles. We wore khaki uniforms and there were not many of us.
I graduated from Miami Dade Jr. College with my Associate of Science Degree in Police Science in May 1969 and wanted to become a Police Officer, however I had a problem because you had to be at least 20 and 6 months old to start the Police Academy. I also made a quick trip to Dallas, Texas to see about working as a police officer there but changed my mind. I was fortunate to have some backing in the staff and myself and a classmate (also slightly underage) were hired as Police Aides full time. We were also permitted to go through the academy earlier than normal, but when we graduated we could not wear our guns or badges and worked in the station at various assignments (like Report Review, Communications, etc.).


MPD Homicide Office
WHEN I TURNED 21, A PARTY WAS APPROPRIATE!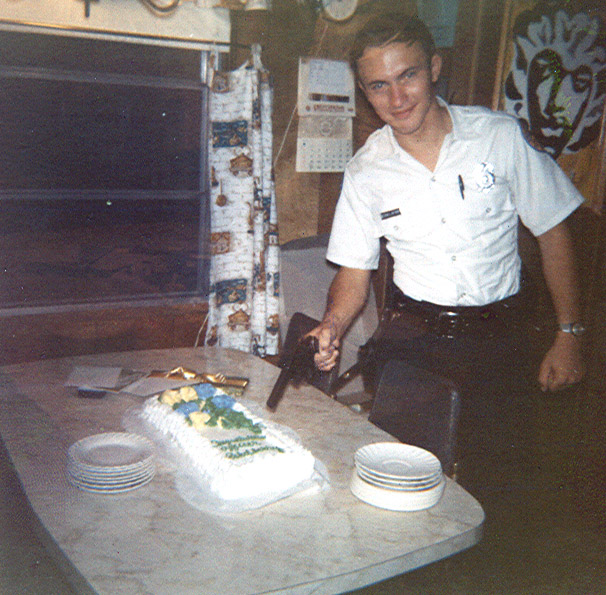 I did NOT shoot the cake!